(COVID-19
The CDC as well as our state and national organizations (the WOA and AOA) are recommending all optometrists cease all primary care exams and remain open for emergencies only.  We have made the difficult decision to follow these recommendations, for the safety of our patients and staff.  We apologize for any difficulties this may cause you and your families, but feel this is in the best interest of our community.
 We will still remain open, during our new business hours of operation (10:00 AM to 3:00 PM), for the pick-up and purchase of products as well as for any ocular emergencies.  We do, however, ask that if you or anyone with you is experiencing any cold and/or flu symptoms you postpone visiting our office until these symptoms resolve.  We also advise any high risk patients remain at home to limit exposure and risk.
We remain dedicated to our community and our patients and hope to provide full service care again soon, once the current outbreak of COVID-19 is controlled.
Welcome
Established in 2008, Frontier Vision Clinic provides vision care for your whole family and our focus is to treat every patient like they are a part of our own family. We strive to provide the kind of service that our patients recommend to their family and friends, and the kind of care that patients trust year after year.
Dr. Robyn Peterson and Dr. Brett Pexton, our friendly optometrists, provide thorough and comprehensive eye exams, providing prescriptions for eye glasses and contact lenses.
We offer a variety of contact lenses, including color contacts, toric contacts (correcting for astigmatism) and multi-focal contacts, to fit the long time wearer or anyone interested in getting into contact lenses for the first time. Please stop in or call for more information.
We know the care of your and your family's vision and health is important to you, but it is also extremely important to us. We provide eye care for the whole family, including pediatric eye exams. Our doctors provide thorough exams for glaucoma, macular degeneration and diabetes. We encourage yearly exams for everyone, but especially for those experiencing the conditions listed above.
Walk-ins are always welcome, and for scheduled appointments, in many cases, we can get you in the same day.
You'll find us conveniently located in Cheyenne, in the College Business Park, across from the urgent care. So stop in or give us a call today to schedule an appointment.
  Business Hours   
                    Monday thru Friday
               *Temporary New Hours*
                     10:00 AM – 3:00 PM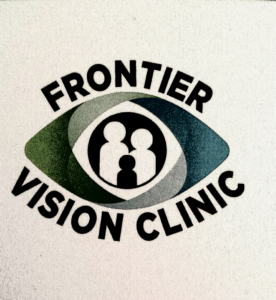 We are located at 4144 Laramie St., Cheyenne, WY  82001
On the southeast corner of Laramie St. and Monroe Ave., next door to the urgent care.
Frontier Vision Clinic, P.C.
4144 Laramie St.  Cheyenne, WY  82001  307-635-1073